A unique way
to celebrate the people who attend your next event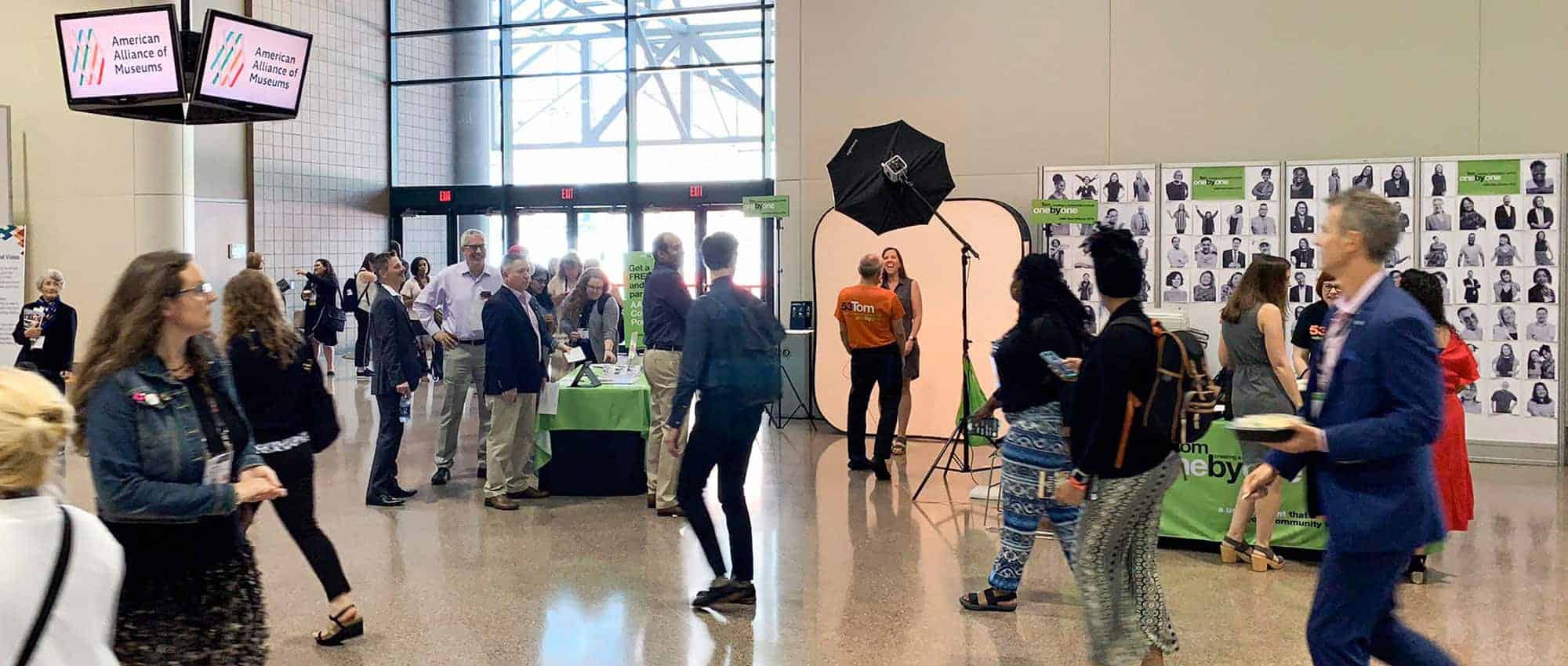 It's fun. It's personal . It's something they take home with them. It connects them to you, memorably, forever.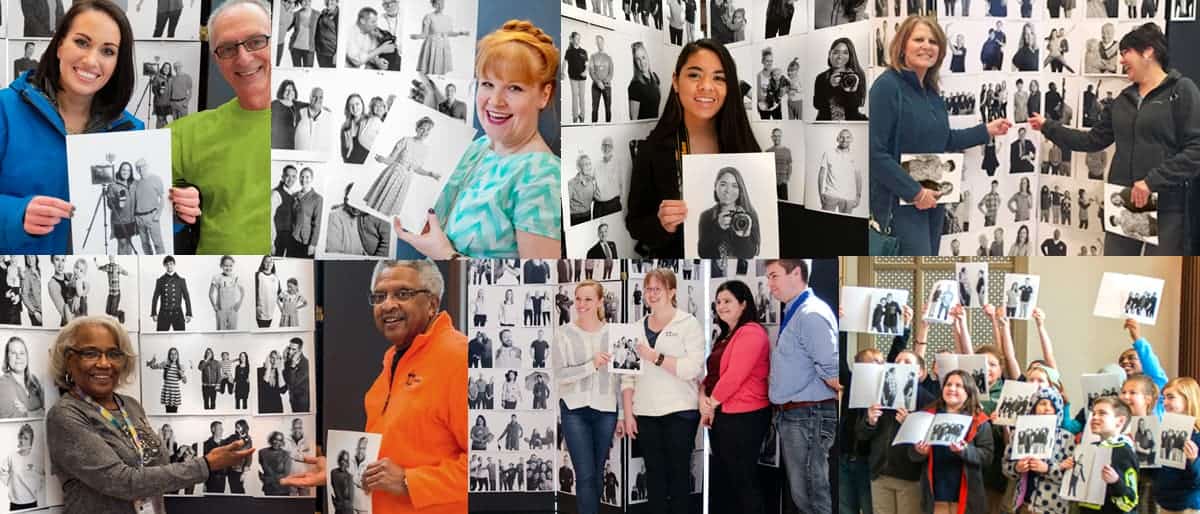 With a ONEbyONE Community Portrait™ you not only CELEBRATE them being a part of your community, but you REWARD them with a souvenir of that association…a captivating portrait of themselves which whenever they see it, will forever CONNECT them back to YOU.
My unique process explained in 4 simple steps.
1. The Photoshoot Experience
Artist Tom Styrkowicz has the ability to almost instantly size up his subject and capture their personality in a fun, engaging portrait, most times with his very first shot! His "portable location studio" is set up in a very visible space so those waiting can watch what essentially becomes a performance. They cheer, respond and applaud the ones before, and are encouraged to create their own memorable pose when it's their turn.
2. Receiving the Printed Photo
No delayed gratification. People are often surprised that they get a large 8 1/2 x 11 print almost immediately. It's theirs to take home with them! (To protect the print it gets put in a folder that is printed with information about the event or its sponsor.) The quality of the photo makes this a treasured keepsake.
3. Installation on the Community Wall
THIS is the real magic of the ONE by ONE Community Portrait™ experience. A second print is added to a large wall containing ALL the portraits made at the event. The wall becomes a focal point. People stop by to watch it "grow." They look to see if their friends' photos are on the wall. They take selfies of themselves next to their photo on the wall.
4. Community Bonding
It's on the wall where people realize that they are part of your community. Their photo could be next to the CEO or keynote speaker, but because they too are on the wall with all the other participants, the print that they carry home leaves them with the lasting feeling that they "belong" to your community.


About Tom Styrkowicz
The creator of this concept, as well as the photographer, is Tom Styrkowicz. Tom's background is widely varied; marketing and innovation consultant and speaker, event producer, brand creator and designer, photographer. He calls this "the 9th chapter of his life." Discovering that he had a talent for quickly sizing up his photography subjects he challenged himself by setting up the first event as "500 Portraits in 5 days."
He was excited by the quality of the portraits, but he was even more delighted by people's reactions to the "community portrait wall" that was part of the event. He saw that this took photography to a whole other level. These were no longer just photos of people, but by linking them together on the "community portrait wall" they became a validation, a celebration, of what connected these people all together. People ask if he gets tired photographing so many people. He answers that he doesn't, because everyone brings new energy to the event. And that energy gets multiplied further by the performance nature of these experiences. People waiting in line watch those ahead of them. They cheer them on, and get inspired themselves, to make their own photos more memorable. And at the center of all this is Tom, orchestrating it all.
Past Events
Tom Styrkowicz
2023-09-11T12:43:43-05:00
The Oakland Museum of California extends the value of a ONE by ONE Community Portrait™ by using 100 of the images we created for a new branding campaign. We met Mary [...]
Frequently Asked Questions
Do the photos always have to be black & white, on a white background?
Tom Styrkowicz
2023-07-20T17:18:45-05:00
For the individual prints and the "community portrait wall" we have found that this combination puts a clean emphasis on the individual person. Black & white neutralizes any bright or garish colors and places the emphasis on peoples' personality rather than their clothes. However, for additional usage, the images can also be provided to the event sponsor in color.
Does the idea of having this at your next event intrigue you?
Call or text 913.940.8900 or use our contact form to tell us about your event.