The Oakland Museum of California extends the value of a ONE by ONE Community Portrait™ by using 100 of the images we created for a new branding campaign.
We met Mary Beth Smith, Director of Marketing and Audience Engagement, at the AAM convention. At that time she thought that the ONE by ONE Community Portrait™ would be great for the museum's 50th anniversary, which was coming up in September of 2019. We talked briefly about setting that up, and agreed we'd talk more as the date got closer. On the 1st of July we received a call from Mary Beth asking if we thought we could be out at the museum doing the event THE FOLLOWING WEEKEND! That was 11 days away! Of course we said YES, and began packing.
The reason for moving the event up was that the museum's branding agency, Image Design Works, was proposing centering the branding campaign on the museum's guests. Mary Beth realized that the ONE by ONE Community Portrait™ would be a great way to collect those images! I agreed, and was excited by the prospect. To meet the creative concept of the agency, we shot these photos in color. The prints given to the subjects, and the ones that went up on the wall were still black & white, but the branding campaign used the color versions.
We were invited back again to stage another ObO during the actual anniversary celebration. When we got to Oakland we were delighted to see our images used on street pole banners, in the BART subway stations, in ads and in the booklet given out to the museum visitors. What a great way to leverage the images we created. The original "community portrait" wall was still up in the museum, but the photos migrated out all around the city of Oakland.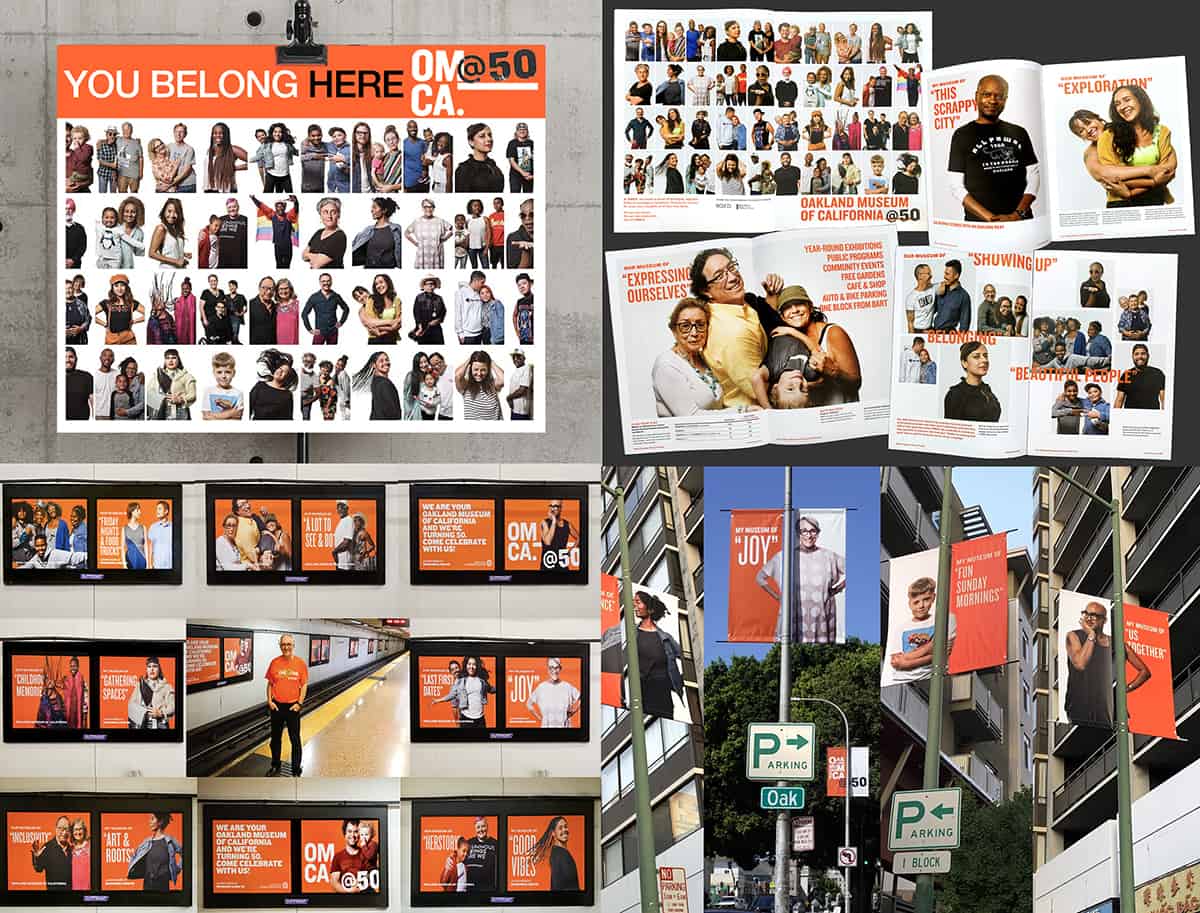 "Our new brand identity is centered on our belief that our visitors are our "muses". Making our community members the heroes of our campaign underscored that idea and Tom's photos captured the heart and soul of our community in each individual portrait."
-Mary Beth Smith
Director of Marketing and Audience Engagement
Oakland Museum of California